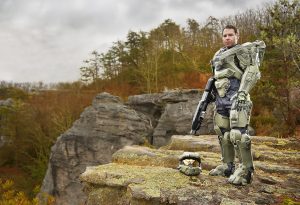 My name is Ray Cox and I've been gaming since I was 3 years old. I became an achievement junkie in early 2006 and I hold the Guinness World Record for the highest gamerscore. I reached my ultimate gaming goal on 3.13.14 which was to be the first person ever to break 1,000,000 gamerscore. With a little luck, consistency and determination I've been able to hold onto the highest gamerscore in the world for over 12 years now. You can find me in the Guinness Book of World Records 2010, 2011 & 2019 Gamer's Edition. Check out my Twitch Live Streams at: Twitch.tv/Stallion83 You can contact me: Stallion83@live.com
From:  Knoxville , TN, United States
GUINNESS WORLD RECORDS
Stallion83 has been featured in the 2010,2011 & 2019 Gamer's Edition of the Guinness World Records and currently holds the record for the highest gamerscore in the world.
Guinness World Records Gamer's Edition 2019 Feature
Guinness World Record Certificate as of November 16th 2010
Guinness World Record Certificate for the World's First 1,000,000 Gamerscore. 3.13.2014
In 2013, at the launch of the Xbox One in New York City, Ray Cox was awarded the only lifetime Xbox Live Gold membership by Microsoft.

Featured
Stallion83's journey to a million gamerscore has been documented in dozens of gaming magazines, websites and newspapers all over the world since 2006.
Game Informer November 2012 Issue
The Sun Newspaper UK
X360 Magazine
Interviews
Xbox Wire Interview: The Man with A Million Gamerscore

Polygon Interview: Meet the million-point man of Xbox Live
IGN Interview: How to Hit A Million Achievements Points
Ars Technica Interview: Girls, games, and Guinness: a quest for 1 million achievement points
COED Magazine Interview: Raymond Cox and The Quest for 1 Million Gamerscore Points
Xbox Gamer Spotlight Interview: Gamer Spotlight – trixie360 interviews stallion83
Xbox America Interview: Celebrity Interview: Stallion83
TrueAchievements Community Interview: TA Community Interview – Stallion83