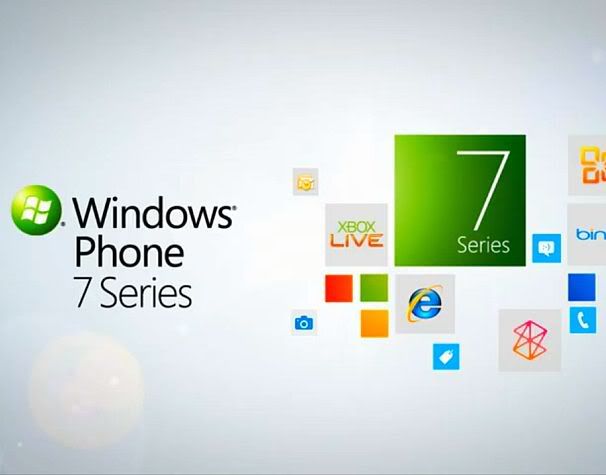 I have been anticipating the release of Windows Phone 7 since the original announcement almost two years ago. My hope had been high the whole time even before the announcements of Xbox Live and Zune services. I had been a Windows Mobile user for several years. When my last contract with Verizon expired I was tempted to hop on the iPhone or Android bandwagon but I had faith that Microsoft was going to jump back in to the mobile game in a big way. About a month ago I switched from Verizon to T-Mobile ending my run of Windows Mobile use and hopping on an Android based My Touch 3G. Which was an admitted huge jump forward from the WinMo6.1 phone I had been using. Then I got this HTC HD7 which is running Microsoft's new Windows Phone 7 operating system which is not just another polished turd. It is an all new built from the ground up iPhone and Android competitor. I was afraid I would regret holding out for my Microsoft fanboyism but not only has this phone lived up to my expectations it has exceeded most of them.
Windows Phone 7's main page is built on a Hub system that has many apps at your disposal and is completely customizable. It is extremely quick to get in and out of your applications. The screen response is super fast, better than the iPhone 4 in my opinion. The layout is brilliant with everything you are going to use within a single touch of the screen. If you have apps installed that you don't want on your hub page just one quick slide to the right and you get the full list of installed applications. The operating system as a whole is definitely a worthy competitor to iPhone and Android right out of the box and will only improve with time. With promises of Flash support in the near future the web browser may become the best on any mobile platform. The software keyboard is pretty good. I still miss the physical keyboard but I will get use to this in time. Overall the operating system is a winner.
Preinstalled applications
People
People replaces your traditional contacts list. It combines your imported phone contacts with the contacts from your Windows Live ID and your Facebook Page. similar to the Android contacts. Though I was a little frustrated at first by the clutter I found it extremely easy to link contacts listed multiple times. I was able to go through my whole 783 contact list linking them down to a more accurate 585 in less than half an hour. now I have a very nice streamlined contacts list. Inside the "people" page one slide to the right will display the most recent facebook updates instantly with no need to open the facebook app. you can even comment directly from here. very slick interface. Slide over one more for recent contacts and you likely have the people you call most at the touch of a button opposed to scrolling through 500 names. All in all the People app is a very nice addition to Windows Phone 7 and my life in general.
Messaging
Really no different then most Android or iPhone offerings. Word bubbled on going conversations. not bringing anything new to the table here. Still it isn't bad.
Hotmail
First thing you have to do when you turn on the phone is link a Windows Live ID. This ID doesnt' not have to be a Hotmail account. Any email account you register with the Windows Live service is fine. I highly recommend setting it up with the one associated to your Xbox Live Account if you have one. I will get into that more in the Xbox App review. This app should have been titled the Pop mail app but due to Microsoft branding it is hotmail. I must say it works great get my mail updates instantly. Really nothing to complain about here. It displays full mail messages as they would appear in your desktop browser and fully supports multi touch pinch zoom. As far as a mail client goes I prefer this one over my Android FroYo experience.
Internet Explorer
Internet Explorer on Windows Phone 7 is nearly flawless. it's fast, it supports tabbed browsing, it supports pinch zoom, It displays all the pages i have tried very naturally. My only complaint? No Flash support. not really a big complaint since I got the phone day one knowing that they were adding Flash support "soon". All in all it is a pretty great browser. Hard to complain here. Add flash and it may be the best mobile browser on the market. Though Skyfire is pretty sweet on the iPhone, if you can get your hands on a copy...
Microsoft Office Suite
What is there to say about Office other than it works and it works well. It includes Word, Excel, Outlook, PowerPoint, One Note and Share Point. Really good stuff here. From my experience of setting up Outlook to my Exchange account at the office it took no time at all to set up. less than 5 minutes to sync. Full calendar support. Not only does the calendar work extremely well but the links in calendar items will launch the appropriate web page or document link. Which the Epic 4G at my office will not do. Very nice feature when I need to check the Company CRM while on the road and don't have time to dig out the laptop. Another feature that is outstanding is the Excel program. It allows me to enter the information in my milage reports instantly and send them right back to the office. As far as i can tell the .xls file format is compatible with Office 2003-2010 with no converter needed. Really nice set up for the entire office application.
TeleNav GPS
This is the supposed to be the same GPS app I am currently using on my Blackberry from Sprint. It's not I used them in tandem all day on the freeway yesterday and the HTC HD7 out preformed the blackberry at every turn... Literally... The GPS was more accurate, faster to update never lost signal (the blackberry couldn't' find GPS 4 times) It may just be that the new hardware is much nicer than an old blackberry but TeleNav is certainly a better navigation option on WP7 but I still think you'd be happier with a Garmin.
Microsoft MyPhone
This is a background app you can't really see the brilliance of unless you go to
http://windowsphone.live.com
and log into your account. From here you can edit your contacts. Remote wipe your device in case it was stolen. Locate your phone on GPS if you have lost it. Ring the phone if you can't find it in your house. You can also remote sync your Zune software from here. Edit you calendar. Download your device photos. Send Office files to your device. Best of all it backs up everything. If you lose your phone just log into the replacement with your Windows Live ID and you are back up within minutes.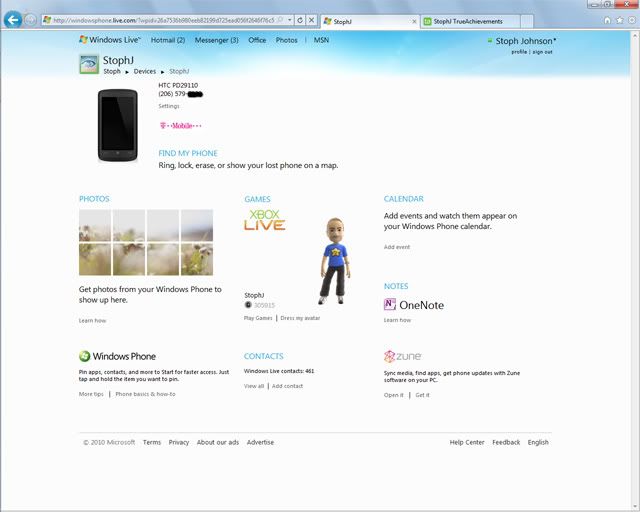 Netflix
Windows Phone 7 Supports Nexflix streaming and it does it well. full search features, manage your by mail queue as well. I have had a few errors when loading a movie but when it does start playing it has been very stable. It is also nice to have the resume playing option for instant watch no matter which device you had previously been watching on WP7, PC, Xbox. very nice addition to the phone. The HTC HD7 also has a built in kick stand so you can watch movies easier. I'm not really sure where i will use this but, it seems nice to have anyway.
Zune
I had fully intended to buy a Zune HD when they were released but kept hearing rumors of a Zune Phone. I held out continuing to use my original Zune 30GB that I purchased at the Nintendo Wii launch in 2006. It's still a decent device to this day and is still in working condition though a little on the bulky side. The Zune player in Windows Phone 7 has the same look and feel of the Zune HD. It doesn't support the HD Radio or, at least my device doesn't support it. It does support the Zune Pass subscription which gives you unlimited music through the Zune Market Place for $15 a month plus you get to keep 10 of those songs in unprotected MP3 format. All in all Zune is a quality competitor to iTunes.
Xbox Live
Due to this being on my gaming blog I'm sure this is what most of you are interested in. So, Here it goes... After having to recover my Xbox Live account over the weekend due to profile corruption I was fearing the account set up process on WP7's Xbox Live App. Surprisingly it went way better than I had expected. Xbox Live on WP7 relies on Xbox.com rather than a stored profile. This makes the setup process flawless and near instantaneous. Make sure when you set up the Windows Live ID at the initial phone setup you choose the WLI that is associated with your Xbox Live account. Otherwise you will be creating a new gamertag for phone use only. The Default Xbox Live hub is Pretty decent. There is a games hub to launch games you have installed complete with a link to the marketplace, message Notifications and Friend requests ( These appear directly on the Windows Hub page. don't' even have to have the application open, Pure Awesome!), Your Xbox Avatar, Gamerscore and most recent achievement are displayed on the home page. There is also a spotlight page that advertises the new game releases. Another bonus is the ability to listen to music from your Zune during game play. Just tap the volume button and you can switch tracks without leaving the game.
All in all it is a nice feature but, If you just want to pick one up for "Easy Achievements" you may want to think again. since you would be spending somewhere in the $350- $750 range to obtain a device and all the games available. Which will currently give you a maximum of 4800 gamerscore. That's if you were able to complete all games. Buy it as a phone and consider the gaming a bonus. Let's run through the games and applications currently available. I won't spend a ton of time on them but, I'll give some opinions on the games that are available.
Xbox Live Extras: Free
Xbox Live Extras is an application that allows you to view your achievement list, edit your avatar, view friends online status's, send and receive messages and update your profile. This is a must have for all xbox gamers.
Flowerz: Free
Interesting little puzzle game and it's free so rather than read my review on it go play it your self what are you waiting for. Ohh, did I mention I got 40 points in it in a matter of seconds?
Avatar Gadgets: $1
Not sure why anyone needs this app unless you need to use a bubble level with your avatar balancing on it... nothing really exciting here.
Halo Waypoint: free
I suppose it is cool for the ultimate Halo fan boy. For me it is pretty bland. it is currently lacking the achievement tracker that way point for the xbox offered up. though, it appears to be coming soon.
Glyder: $3
You glide, You collect things then you glide some more the game is advertised as 7 levels 375 collectibles. If you are into that sort of thing go for it. It's not the funnest or prettiest game on the device but at $3 the price isn't exactly wrong.
OMG: Our Manic Game: $3
Pretty outstanding 2D space shooter. Very pretty graphics and bright colors similar to Geometry Wars in look but not in game play. Certainly a must buy at the $3 price point. controls really well unless you move your finger down to far and accidentally hit the Windows Key or Search button.
Hexic Rush: $3
Unfortunately the controls on this one are a little tough to get use to. Still It is Hexic in it's purest form still a very good game despite some control accuracy issues. You won't find a much better time waster for three bucks.
Game Chest: Solitaire: $3
In this game there are three versions of solitaire.Klondike, Spider and Tri Peaks. Don't know what else to say other than it is a Solitaire game and it controls really well. if you are in to solitaire it should be a purchase.
Frogger: $3
Frogger is your very average Frogger game. It looks better than the frogger offerings on XBLA but that doesnt' take much. if you are a frogger fanatic go for it otherwise avoid this one.
Twin Blades: $3
Twin Blades is a 2D side scrolling adventure game. You are a Nun with a giant Scythe and you kill zombies. the controls are crisp once you get use to the virtual analog stick? did I just say that? Anyway the game is a good choice for most gamers. especially at the low price point.
CarneyVale: Showtime: $3
A little bit Wik: Fable of Souls, a little bit Pixel Junk: Eden. Seems like a decent enough game. nothing to get too excited about.
Flight Control: $3
Kind of a neat game you need to control multiple airplanes trying to land at the same time from a top down view with out them colliding. Seems like it could be fun.
de blob: Revolution: $3
interesting little game.. find the path to the exit. can't cross your own path. think Tron's light bikes. seems like it could be fun.
The Revenants: $3
This is a strange game in which you circle various bugs with your finger creating vortex's that make them disappear. cool concept a little weak on the execution. The game suffers from control and visibility issues since your finger blocks your view. Still i wouldn't call it bad.
Need for Speed: Undercover: $5
Kind of cool it includes the same cut scenes as the 360 version. The controls are surprisingly crisp. Based on tilting the device to steer. Tapping the screen to brake. An upward swipe of the screen kicks on the nitrous. Downward activates slow motion. All in all this is a very good game. Much better than I had expected from a phone title. I recommend picking this one up.
Bejeweled Live: $5
This game really shines on the Windows Phone 7 platform. The presentation is brilliant the screen accuracy and response is spot on. The game play is near perfect. Great game for the Bejeweled enthusiast to the most casual of gamers. This one is a must buy.
Earthworm Jim HD: $5
Very good game. Plays really well with the touch screen controls same level designs as the XBLA version. If you enjoy 2D platformers you should at least try this demo.
Monopoly: $5
It's Monopoly! It's really easy achievements! It's $5 what else do you need to know.
Uno: $5
It's Uno! It's really easy achievements! It's $5 what else do you need to know. And, if you were wondering... Yes, I copy and pasted that.
Glow Artisan: $5
An interesting little logic puzzle game with color combos. Not the best think I have played but it is a solid time passer.
Tetris: $5
I personally really enjoy Tetris. These controls make it a little hard to love. if you are willing to battle through it it will be worth your $5.
Starwars: Battle for Hoth: $5
Solid Tower Defense game. really cool cut scenes with Starwars movie footage mixed with new game specific footage. really well done. Buy it!
More Brain Exercises: $5
This game is easily the worst of the WP7 launch titles. Very low graphic quality. This wanna be Brain Age is not worth your $5 or your time.
Max and the Magic Marker: $7
Cool 2D Platformer. Very high quality title. At the $7 price point it's not as easy to recommend to everyone but try it out. I think you'll like it.
I've included a video of me playing the game as a demo until the first achievement would have unlocked. then I purchase the full game and return to obtain the achievement. It's just as easy as the XBLA demos.
Rocket Riot: $7
It looks a lot like the XBLA version. Cool Particle effects. The game is kind of hard to control though.
The Sims 3: $7
Not a bad mobile adaptation. It's a little weak in the sense you control a solo Sim. but the game play is solid and enjoyable. Nowhere near the depth of the PC or console version but not bad for a portable Sims game.
The Harvest: $7
In my mind this is the best WP7 Live has to offer. it's a futuristic dungeon crawling RPG. Featuring 3 classes, character leveling and customization. fairly deep game and the achievements will keep you busy for a while. I would say if you are going to buy a single game get this one.
Guitar Hero 5: $10
On the phone Guitar Hero is fairly disappointing it's a three color highway nothing but timed screen taps. The buttons happen to be just above the system buttons so hit to low and it is back to the dashboard. Kind of frustrating, on the upside there is licensed music which is nice. Not a great game but the achievements seem obtainable and the presentation is good.
And for those of you wondering... Yes, the games all make the achievement unlocked noise!
All in all Windows Phone 7 is a very good Phone OS. It's not necessarily a game changer like the iPhone was but it's an adequate option if you are in the market for a new phone. Certainly check it out for yourself I think you may be pleasantly surprised!