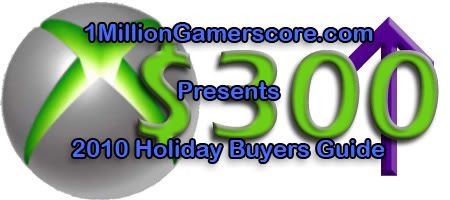 Money isn't an issue for you this holiday season? Well here are some show stoppers that will blow away anyone you decide to give them to.
Windows Phone 7: $500
Microsoft's new mobile operating system is an impressive piece of software. It thrusts Microsoft back into the mobile game in a big way. If you or someone you love is in the market for a new phone you may want to consider the HTC HD7 on the T-Mobile network or the Samsung Focus through AT&T. Both phones are available now for $199 on 2 year contract, $499 without. Did I mention Windows Phone 7 has built in Xbox Live. Now you can earn achievements anywhere!
Sony SXRD Home Theater Projector: $6000
This is what I'm currently playing my quality titles on. I can't bring myself to play games like CSI on here due to the cost of bulbs for it but the picture quality is outstanding even at 140 inches. This is an absolute show stopper if set up in the right room. No built in TV Tuner. You can also step it up to 3D for a $7000 up charge.
Model Number: VPL-VW70
Samsung 55" LED: $2800
One of the bests TV's on the market great for gaming. It's going to look nice in your living room much better for a smaller or brighter room than the projector listed above. Sure there are smaller cheaper options but who wants those? Model Number: UN55C6500VF
Xbox Premium 250GB with Kinect $399
The best of both worlds. The Premium Xbox for the more hardcore Internet connected gamer plus the Kinect sensor.
Pioneer Elite Surround Sound Receiver $2200
One of the best surround sound amplifiers you can buy for your home. It doesn't come with the speakers you have to purchase them separately. It will blow you out of the room if you want it to. The receiver is the heart and soul of your home theater. Getting a cheap one could degrade your video quality due to the HDMI pass through. With the Pioneer Elite series you will not lose any video or sound quality. Model Number SC-37
Ok, so it isn't a realistic Christmas gift but I want one!